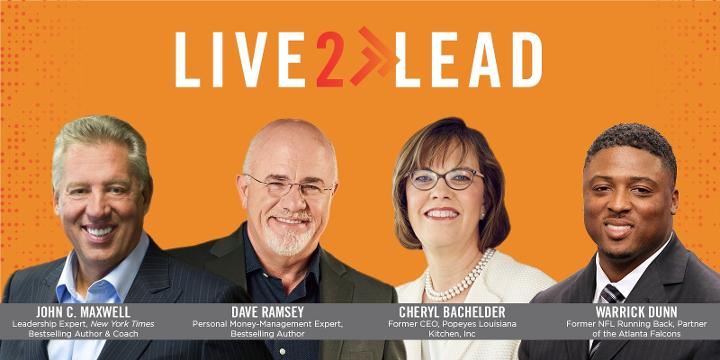 WHAT IS LIVE2LEAD 2017 YORKTOWN SIMULCAST?
Live2Lead is a half-day leadership, and personal growth event. This simulcast event is an annual leadership gathering developed by The John Maxwell Company. For almost a decade, Live2Lead has shared leadership and personal growth principles to a live audience and over 300 simulcast locations around the world.
Attendees learn from renowned leadership experts from a variety of industries, gain a new perspective on relevant topics, and get practical tools to take with them to develop and apply in their liv

es. Whether you are leading a team of one or thousands, L2L is designed to inspire and equip you to make a positive change in yourself and in others.
2017 Speakers: John C. Maxwell, Dave Ramsey, Cheryl Bachelder, Warrick Dunn and Don Yaeger
John C. Maxwell -- an internationally recognized leadership expert, speaker, coach, and author who has sold over 25 millionbooks. http://www.johnmaxwell.com/
Dave Ramsey -- an American businessman, author, radio host, television personality, and motivational speaker. https://www.daveramsey.com/careers/about-dave
Warrick Dunn

– a former American football running back who played in the National Football League for twelve seasons and today is a dedicated philanthropist. http://www.warrickdunn.com/bio.html
Cheryl Bachelder -- former CEO of Popeye's – Profiled in The Wall Street Journal and The New York Times and was named by CNBC's Jim Cramer as one of his "21 Bankable CEOs" for 2014. https:/https://www.linkedin.com/in/cherylb
Don Yaeger

- Award winning Certified Speaking Professional, Author, Executive Coach and team culture expert. https://www.linkedin.com/in/donyaeger
The event is designed to deliver the very best leadership content to inspire and motivate you and your team. It will be filled with leadership inspiration. Plus connect with other influencers in your community and expand your business network with relationships that produce tangible results. Attendees will participate in rich discussions and walk away with action plans. Make it your business to seize this opportunity to learn, network and engage in community! "Do it Now!" We guarantee you will leave equipped and excited to lead and create change with renewed passion and drive.
Event Date and Time: Schedule your event today to meet your organization's needs. This leadership development training is presented in a way that gives you the most value in a half day or full day program. The full day program includes the Leadership Game and Assessment.
Contact:

Dr. Sandra Sessoms-Penny

L2L Yorktown Host and John Maxwell Team Member

Phone: (757) 810-5476

email: coachsp@igrowcoaching.com

I-GROW Web site: www.inevitablegrowth.com

JMT Web site: http://www.johncmaxwellgroup.com/sandrasessomspenny