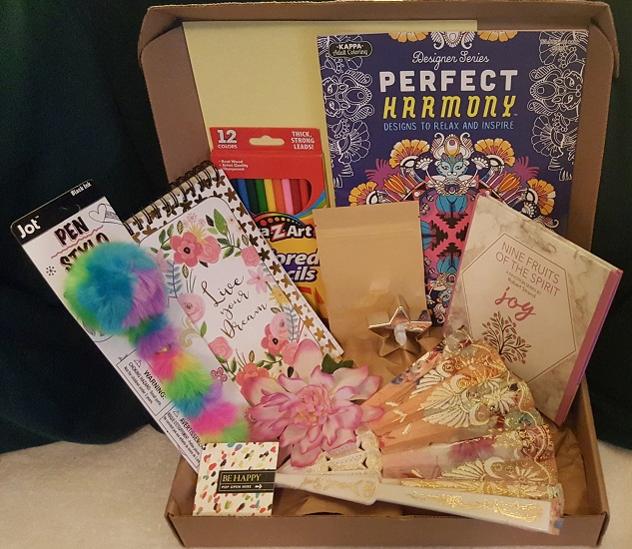 I-GROWFruit of the Spirit Inspirational Swag Box
Inspiration takes place on the inside of us. It is filled with action and momentum. You or someone you know may need an extra tug or pull to raise our personal awareness and level of inspiration from time to time. This inspirational swag box makes the perfect pick me up or gift for many occasions such as birthdays, encouragement, self-care, promotions, just because, thinking of you, get well and Mothers' Day, to name a few.
It is filled with creativity and opportunity to grow.
Galatians 5:22-23 (AMP) But the fruit of the Spirit [the result of His presence within us] is love [unselfish concern for others], joy, [inner] peace, patience [not the ability to wait, but how we act while waiting], kindness, goodness, faithfulness, gentleness, self-control. Against such things there is no law."
SWAG – (Something Wonderful Always Grows) Inspirational Box
Contains:
1 - Fruit of the Spirit Book (describes one Fruit of the Spirit – 68 pages (front to back)
1 - Decorative Fruit of the Spirit Rainbow Pen (black ink)
1 - Colorful Inspirational Journal/Note Pad (design & colors vary) – 100 Sheets
1 - Adult Coloring Book (Design varies – 32 pages (front to back))
1 - Set of 12 Colored pencils
1 – Decorative Fan (design and colors vary)
1 – Tea Bag of special blend tea
1 – Led tealight candle (colors vary – white, silver tone, or gold tone)
1 – Decorative Flower (flowers vary)
1 – Be Happy, Savor the Moment Card
1 – 30 days of Gratitude Sheet
1 – 30 Days of Inspiration Sheet
1 – Sheet describing how each of these items may encourage you to live an inspired life.
1 – Mailing box measuring 12X9X2 inches.
FREE SHIPPING – Regular mail (box weighs approximately 26 ounces).
No international or overseas shipment. Continental United States only.
Investment: $44.95
I-GROW Fruit of the Spirit Inspirational SWAG Box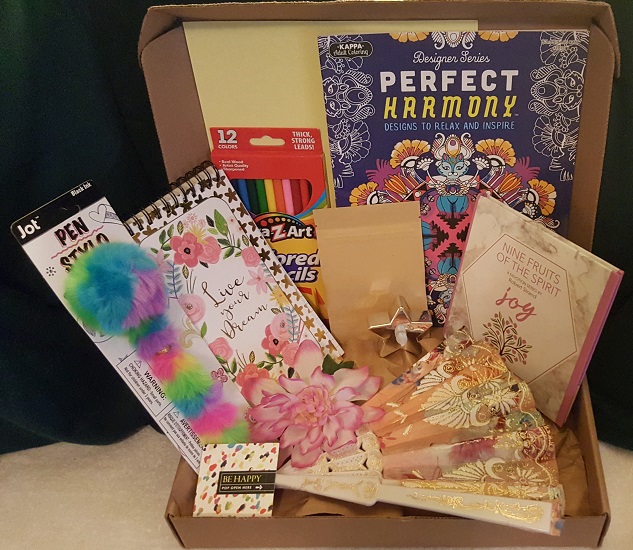 $ 44.95 USD
Inspiration takes place on the inside of us. It is filled with action and momentum. You or someone you know may need an extra tug or pull to raise our personal awareness and level of inspiration from time to time. This inspirational swag box makes the perfect pick me up or gift for many occasions such as birthdays, encouragement, self-care, promotions, just because, thinking of you, get well and Mothers' Day, to name a few. It is filled with creativity and opportunity to grow. Galatians 5:22-23 (AMP) But the fruit of the Spirit [the result of His presence within us] is love [unselfish concern for others], joy, [inner] peace, patience [not the ability to wait, but how we act while waiting], kindness, goodness, faithfulness, gentleness, self-control. Against such things there is no law."